Description
DAITO 
CR-1000


PLASMA COPING ROBOT
Decription
coping machine
Completely new design with even more rigidity and less vibration, better cutting quality, better performance and faster cutting times.
Features
* Cut box tubing in one pass with underside cutting
* Full 4 sided layout marking
* New faster robot by YASKAWA MOTOMAN
* Latest Hypertherm XPR300 plasma
* Completely new controller and software
* Bar nesting and optimisation built-in
* Remote assistance and diagnostics
* New walk-through door design
* Laser eye measurement device
* High-speed processing and cycle times
Better Designed, Better Made, Better Service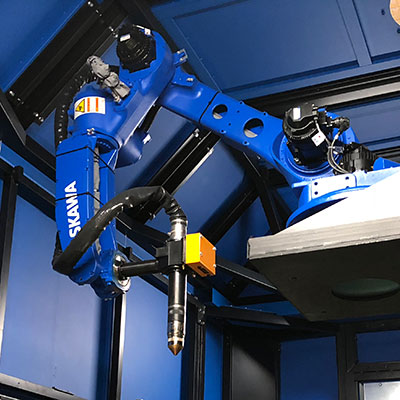 YASKAWA MOTOMAN HIGH SPEED ROBOT
New Yaskawa Motoman Robot Features
* High-precision drives
* Higher accuracy.
* Compact design.
* Advanced collision avoidance.
* Reduced vibration at the torch.
* Ultra-fast processors and software
ADVANCED CUTTING
BOX TUBING
Daito's superior knowledge, experience, and technology deliver the steel industries premier plasma cutting robot to fully process box tubing.
FULLY BEVEL BOX TUBING
* Capable of cutting 3D (bevels) on the corner radius and full bevel functionality.
* Allowing for a full bevel on all four sides.
* With only two ignitions!
SLOTTED HOLES IN BRACED CONNECTIONS
* Fully capable of cutting the slots and end on all 4 sides with only 2 ignitions..
* Daito laser measurement system ensures superior accuracy.
* No measuring probe, no torch touching material and no wear & tear.
* No unnecessary maintenance expense.
* Plus no re-work!